1st Regular Battery Volunteer Artillery (Higginsís, Semmesís, Barnesís)
?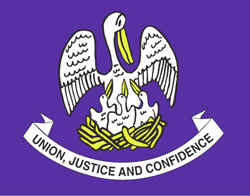 From Bergeron, La. Confed. Units, 18-19:
"This battery was organized in New Orleans, possibly at Camp Benjamin, on October 29, 1861, with 120 men. Members of the battery had enlisted in the regular army of the Confederacy for five years. Upon the evacuation of New Orleans in April, 1862, the battery moved to Camp Moore. When General John C. Breckenridge's army passed through the camp on its way to attack the Federals occupying Baton Rouge, the battery joined the column with Colonel Henry W. Allen's Louisiana brigade. In the battle of Baton Rouge, August 5, the battery fired upon and silenced two enemy batteries and thus established its reputation as an efficient artillery unit. The men moved to Port Hudson after the battle to become part of the garrison there. On September 2, the battery received orders to cross the Mississippi River and report to General Richard Taylor's army. The men fought in a skirmish at Koch's Plantation south of Donaldsonville on September 24 and in the Battle of Labadieville, October 27. Retreating with Taylor's army to the lower Bayou Teche, part of the battery engaged Union gunboats there on November 3. The men went into camp near Centerville for the winter. On April 12 and 13, 1863, the battery helped stop several enemy attacks in the Battle of Fort Bisland. The battery joined Colonel Thomas Green's Texas cavalry brigade as part of the rear guard of Taylor's army during its retreat from Bisland to Opelousas. At Jeanerette, on April 15, one section inflicted heavy losses on pursuing enemy soldiers. The battery continued to operate with Green's cavalry in all its campaigns in south Louisiana during the summer and fall of 1863. On July 3 and 4, the rifled section fired on and crippled enemy transports on the Mississippi River below Donaldsonville. One section attempted to join Green in the Battle of Bayou Bourbeau, November 3; but its horses tired out, causing it to arrive too late. The battery was held in reserve and was not engaged in the battles of Mansfield and Pleasant Hill, April 8-9, 1864. During the retreat of the Federal army down the Red River, the battery operated with General William Steele's Texas cavalry brigade and participated in skirmishing near Cloutierville, April 23-24. The battery fought in the engagements at Mansura, May 16, and at Yellow Bayou, May 18, at the end of the Red River Campaign. In the fall and winter of 1864, the battery served in the 3rd Artillery Battalion attached to General Camille J. Polignac's infantry division. By the end of the year, the battery had transferred to Major Charles Squires's battalion attached to General John H. Forney's infantry division. War's end found the battery stationed at Tyler, Texas."
ROSTER
CIRE, G. Pvt. // CSRC, Index.

CIRE, I. Pvt. // CSRC, Index.

COUVILLION, G. Pvt. // CSRC, Index: G. Couvillon

FORET [Forey], L. S. Pvt. Res. Lafourche [Par.]. [En. n.d.,n.p.] POW prl. Alexandria, 4 Jun 65. [NER.] (B1:896)

GUILLORY, Joseph. Pvt. // CSRC, Index.

JUDICE, Charles. Pvt. // CSRC, Index.

LEDET, Adam. Pvt. // CSRC, Index.

OUBRE, T. Pvt. // CSRC, Index.

8 1st Reg. Batt.

Individuals from non-Cajun families, CSRC Index
copyright (c) 2003-04 Steven A. Cormier