23rd/22nd Regiment Volunteer Infantry
[also known as 23rd Regiment Volunteer Infantry, 22nd (Theard's-Herrick's) Regiment Volunteer Infantry]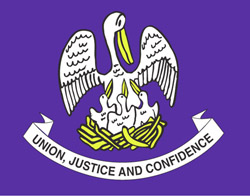 [Companies F&S A B C D E F G H I K ?]
From Sifakis, Compendium of C.S. Armies: Louisiana, 109-10:
Also Known As: 23rd Infantry Regiment

Organization: Organized as the 23rd Infantry Regiment in New Orleans in January 1862. Mustered into Confederate service in March 1862. Reorganized with four companies on May 25, 1862. Designation changed to 22nd (Theard's-Herrick's) Infantry Regiment in early 1863. This regiment generally served as heavy artillery. Regiment surrendered at Vicksburg, Warren County, Mississippi in July 1863. Consolidated with those portions east of the Mississippi River of the 3rd, 17th, 21st (Smith's-Higgins'-Patton's), 26th, 27th, 29th, and 31st Infantry Regiments and designated as the 22nd Infantry Regiment Consolidated at Enterprise, Mississippi on January 26, 1864. It was assigned as Companies A, B, C, D, and E of the new unit.

First Commander: Paul E. Theard, COL [resigned May 1, 1862]

Field Officers: Charles H. Herrick, COL [May 1, 1862; died May 22, 1863]; Samuel Jones, MAJ, LTC [October 1, 1862]; William S. Lovell, LTC transferred, ?]; Washington F. MARKS, MAJ [promoted ?]; Aristee L. Tissot, LTC [resigned October 1, 1862]

Assignments: Coast Defenses, Department #1 (Jan-May 62); Department #1 (May 62); Defenses of Vicksburg, Department #1 (Jun 62); Department of Southern Mississippi and East Louisiana (Jun-Jul 62); 2nd/3rd Sub-district, District of the Mississippi, Department #2 (Jul-Oct 62); Department of Mississippi and East Louisiana (Oct 62); River Batteries, 2nd Military District, Department of Mississippi and East Louisiana (Oct 62-Apr 63); River Batteries, Department of Mississippi and East Louisiana (Apr-Jul 63); Mackall's Brigade, Forney's Division (Nov 63-Jan 64)

Battles: New Orleans (April 18-25, 1862); Vicksburg Bombardments (May 18-July 27, 1862); Fort Pemberton (March 1863); Vicksburg Passage (April 16, 1863); Vicksburg Campaign (May-July 1863); Vicksburg Siege (May-July 1863)
From Bergeron, La. Confed. Units, 128-30:
"This regiment was organized in New Orleans, possibly at Camp Lewis, in January 1862, by the addition of six companies to the Orleans Artillery Battalion, a state militia unit. In March, the regiment was mustered into Confederate service with approximately 841 men. The various companies occupied at that time or soon received assignment to different fortifications along the Gulf Coast. Companies A, B, C, and D defended Fort Livingston; Companies E and G, Fort Guion on Bayou Lafourche; Companies F and K, Fort Pike; Company H, Fort Quitman on Grand Caillou Bayou; and Company I, Fort Jackson. The latter company was captured at Fort Jackson on April 26. When General Mansfield Lovell ordered the evacuation of New Orleans, most of the companies disbanded, and the men went home, fearing orders compelling them to leave the state. Companies E, F, and K, with small numbers of men from other companies, reported to Lovell at Camp Moore. On May 25, these men reorganized themselves into four companies. They received orders to report to Vicksburg, Mississippi, and arrived there on June 11. The men took part in the defense of the city by manning some of the heavy artillery in the river batteries until the enemy abandoned its operations on July 27. During the fall and winter, the regiment continued to serve in the Vicksburg river batteries and received reinforcements in the form of men of the unit who were exchanged after having been captured at New Orleans. Sometime in early 1863, the regiment's designation was changed to the 22nd Louisiana Regiment. In March, 1863, the men went to Fort Pemberton near Yazoo City, where they exchanged shots with Federal gunboats on several occasions. When General Ulysses S. Grant's Union army approached Vicksburg in May, the regiment returned to the city to participate in its defense. Companies A and B served with the 1st Louisiana Heavy Artillery in the river batteries, and Companies C and D fought in the trenches with the 21st (old 22nd) Louisiana Regiment. These four companies were surrendered with the garrison on July 4 and paroled. Captain Durrive's company [F] had remained at Yazoo City because it had been acting independently from the other companies. In early July, this company moved to Jackson, and the men participated in the fighting there until the city was evacuated, on July 16. The company remained in central Mississippi until winter, when it went to Mobile, Alabama. Most of the men captured at Vicksburg went into a parole camp at Enterprise. On January 26, 1864, they were united with the remnants of the 21st Louisiana Regiment and with the men from several other Louisiana regiments to form the 22nd Louisiana Consolidated Regiment."
CSRC, M320, rolls 322-326
ROSTER
MARKS, Washington F. MAJ. From Company H, this regiment. To Field & Staff, 22nd Consolidated Regiment Infantry. // CSRC, Index: Wash MARKS, Washington MARKS.

1 F&S, 23rd/22nd Inf.

Individuals from non-Cajun families, CSRC Index

Company A (1st Company Orleans Artillery, Gomez's)

Orleans

AYCOCK, T. Pvt. // CSRC, Index.

BERTRAND, Artigen. Pvt. // Booth, La. Confed. Soldiers, 1:183; says Company E. CSRC, Index; says Company A.

BOUDREAUX, E. Pvt. En. 10 Sep 61, Camp Lewis. [NFR.] (B1:53b)

DELACROIX, Jules D. 2LT See Company E, this regiment.

DUPRE, H. Pvt. // CSRC, Index.

GARCIA, A. M. Pvt. // CSRC, Index.

GAUTHIER, Jules. Pvt. // CSRC, Index: Jules Gautier.

// Same J.G. as in Company D, 13th Regiment Infantry?

GOMEZ, Francisco. CPT. Also Company C, this regiment. // CSRC, Index.

LAMBERT, J. E. 2LT. See Company E, this regiment.

LEGENDRE, G. Pvt. // CSRC, Index: G. Legendri.

LEGENDRE, U. Pvt. // CSRC, Index: U. Legendri.

LEONARD, J. A. Cpl. // CSRC, Index.

MARTIN, A. Edgar [A. E.]. Pvt. Born 1841. [En. n.d.,n.p.] POW cap. Grand Terre, 23 Jun 62. Remarks: Abs. at time of exch. [NER/NFR.] Died 1892, age 51. Buried St. Peter Catholic Cemetery, Carencro; birth & death years from his family tombstone. (B2:887)

//

[photo]

MCBRIDE, John. Pvt. To Company A, 22nd Consolidated Regiment Infantry. // CSRC, Index.

POTIER [Portier], E. Pvt. En. 11 Sep 61, Camp Lewis, nr. New Orleans until 18 Jun 62. Sep 61: Pres.

or abs. not stated. [NFR.] (B3:177)

POTIER [Portier], T. Pvt. En. 11 Sep 61, Camp Lewis, nr. New Orleans until 18 Jun 62. Sep 61: Pres.

or abs. not stated. [NFR.] (B3:177)

REED, Hugh. Pvt. // CSRC, Index.

ROMAN, A. Pvt. // CSRC, Index.

SAUCIER, E. Sgt. Also Company E, this regiment. To Company E, 22nd Consolidated Regiment Infantry. // CSRC, Index.

SMITH, John. Pvt. // CSRC, Index. // Same J.S. as in Company H, this regiment?

TROSCLAIR, J. J. Pvt. // CSRC, Index.

21 Co. A, 23rd/22nd Inf.

Individuals from non-Cajun families, CSRC Index

| | | | | |
| --- | --- | --- | --- | --- |
| ANDERSON, William. Pvt. | ANSBURY, Henry. Pvt. | | | |
| 2 | | | | |

Company B (2nd Company Orleans Artillery, Marlot's)

Orleans

ADAMS, John. Sgt. // CSRC, Index.

BERTRAND, J. Pvt. // CSRC, Index.

FREDERICK, John. Pvt. // CSRC, Index.

GERARD, J. Pvt. // CSRC, Index.

GERARD, L. M. Pvt. // CSRC, Index.

JOHNSON, F. J. Pvt. To Company B, 22nd Consolidated Regiment Infantry. // CSRC, Index.

LE BLANC, O. Pvt. [En. n.d.,n.p.] Roll n.d.: On lv. [NFR.] (B2:696)

LEGENDRE, Joseph. Pvt. // CSRC, Index: Joseph Legenore.

MARKS, Marion H. Pvt. See Company H, this regiment.

MARTIN, C. Pvt. [En. n.d.,n.p.] On list n.d. [NFR.] (B2:888)

MILLER, Ferdinand. Pvt. // CSRC, Index.

NOTT, E. Pvt. // CSRC, Index.

NUNEZ, L. Pvt. // CSRC, Index.

RENAUD, Emile. Pvt. // CSRC, Index.

ROY, Louis. Pvt. En. 23 Dec 61, New Orleans. Pres. late Dec 61-Oct 62. Nov 62-Feb 63: Abs., hosp.,

Magnolia, MS, sick. [NFR.] (B3:408)

SAUCIER, D. Pvt. // CSRC, Index.

SIMON, Peter. Pvt. En. 23 Dec 61, New Orleans. Pres. late Dec 61. Jan 62: Sent home sick on furl.,

26 Jan 62. Pres. Mar 62-Dec 63. To Company B, 22nd Consolidated Regiment Infantry. (B3:574)

// Probably not Cajun.

YOUNG, William. Pvt. // CSRC, Index.

18 Co. B, 23rd/22nd Inf.

Individuals from non-Cajun families, CSRC Index

| | | | | |
| --- | --- | --- | --- | --- |
| ADAMSON, John S. Pvt. | AGART, John. Pvt. | ALANIZ, M. Pvt. | ALCALA, Ramon. Pvt. | ALT, F. Pvt. |
| ALVADO, Ramon. Pvt. | ARDEVILLE, L. Pvt. | | | |
| 7 | | | | |

Company C (3rd Company Orleans Artillery, Stromeyer's)

Orleans

ABADIE, Paul T. Sgt Also Company D, this regiment. To Company D, 22nd Consolidated Regiment Infantry as 1Sgt. // CSRC, Index: Paul T. ABADIE, P. T. ABADIE.

ADAM, J. L. Cpl. Also Company D, this regiment. To Company D, 22nd Consolidated Regiment Infantry. //

CSRC, Index.

BRUNET, A. Sgt. // CSRC, Index.

CHAMPAGNE, P. Pvt. // CSRC, Index.

CROCHET, E. Pvt. // CSRC, Index.

DECOUX, P. Pvt. // CSRC, Index.

DUVAL, P. Pvt. To Company C, 22nd Consolidated Regiment Infantry. // CSRC, Index.

GOMEZ, Francisco. CPT. See Company A, this regiment.

GOMEZ, P. A. 1LT. To Company C, 22nd Consolidated Regiment Infantry. // CSRC, Index: P. A. GOMEZ, T. A. GOMEZ.

JOHNSON, J. D. Pvt. // CSRC, Index.

LAGARDE, J. Pvt. // CSRC, Index.

LATOUR, Victor. Pvt. To Company C, 22nd Consolidated Regiment Infantry as Cpl. // CSRC, Index.

LEONARD, Charles. Pvt. To Company C, 22nd Consolidated Regiment Infantry. // CSRC, Index.

MARCHAND, E. Artificer. Also Company E, this regiment. To Company E, 22nd Consolidated Regiment Infantry as Pvt. // CSRC, Index.

MOLAISON, J. A. Pvt. Also Company D, this regiment. To Company D, 22nd Consolidated Regiment Infantry. //

CSRC, Index.

PORCHE, E. Sgt. To Company E, 22nd Consolidated Infantry Regiment as 1Sgt. // CSRC, Index.

POURSINE, A. Pvt. To Company C, 22nd Consolidated Regiment Infantry. // CSRC, Index.

RENAUD, Gustave. Pvt. To Company C, 22nd Consolidated Regiment Infantry. // CSRC, Index.

RENAUD, J. C. Artificer. To Company C, 22nd Consolidated Regiment Infantry as Cpl. // CSRC, Index.

ROBERT, L. Pvt. // CSRC, Index.

ROBERT, M. Pvt. Also Company E, this regiment. To Company E, 22nd Consolidated Regiment Infantry as Cpl. // CSRC, Index.

ROGER [Rouger], M. Pvt. En. 11 Sep 61, Camp Lewis, nr. New Orleans. [NFR.] (B3:397)

TAYLOR, Warren. Pvt. // CSRC, Index.

WILTZ, John. Pvt. To Company C, 22nd Consolidated Regiment Infantry. // CSRC, Index.

YOUNG, Osceola. Pvt. // CSRC, Index.

25 Co. C, 23rd/22nd Inf.

Individuals from non-Cajun families, CSRC Index
| | | | | |
| --- | --- | --- | --- | --- |
| AARONS, M. 2LT. | ABRAM, E. Drummer | ALBAGNAC, A. Pvt. | ANGLAND, L. Pvt. | |
| 4 | | | | |
Company D (4th Company Orleans Artillery, Theard's)

Orleans

ABADIE, E. E. Pvt. To Company D, 22nd Consolidated Regiment Infantry. // CSRC, Index: E. Abadee, E. E. ABADIE.

ABADIE, Louis. Pvt. // CSRC, Index.

ABADIE, Paul T. Sgt. See Company C, this regiment.

ADAM, J. L. Cpl. See Company C, this regiment.

BLANC, G. S. Sgt. // CSRC, Index.

DECOUX, Ed. Cpl. // CSRC, Index.

LAMBERT, S. Pvt. En. 11 Sep 61, Camp Lewis. [NFR.] (B2:630)

MOLAISON, J. A. Pvt. See Company C, this regiment.

ROY, Adolph. Pvt. En. [n.d.,n.p.]. Sep 61: [NFR.] (B3:406)

SANCHEZ, F. Pvt. To Company B or D, 22nd Consolidated Regiment Infantry. // CSRC, Index.

VERRET, Henry. Pvt. To Company E, 22nd Consolidated

Regiment Infantry. // CSRC, Index: H. VERRET, Henry VERRET.

11 Co. D, 23rd/22nd Inf.

Individuals from non-Cajun families, CSRC Index

| | | | | |
| --- | --- | --- | --- | --- |
| AARONS, M. 2LT. | ANGLADE, F. Pvt. | | | |
| 2 | | | | |

Company E (McCall Guards, Herrick's)

Orleans

AMMAN, V. Pvt. // CSRC, Index.

BERTRAND, Artigen. Pvt. // Booth, La. Confed. Soldiers, 1:183; says Company E. CSRC, Index; says Company A

BERTRAND, G. Pvt. // CSRC, Index.

BOURGEOIS, B. Pvt. En. 11 Sep 61, Camp Lewis, nr. New Orleans. [NFR.] (B1:62b)

DELACROIX, Jules D. 2LT. Also Company A, this regiment. To Company A or E, 22nd Consolidated Regiment Infantry. // CSRC, Index: J. D.

DELACROIX, Jules D. DELACROIX

LAMBERT, J. E. [Ed.]. 2/1LT. Res. New Orleans. Entered state svc., 11 Jun 61. En. C.S. svc. 11 Sep

61, New Orleans. Appt. 2LT, 25 May 62. Elected 1LT, 1 Mar 63. Apr-Dec 63: Abs. Det., order of MG Smith, [?] 1862, as recruiting officer at Brookhaven [MS?]. Also Company A, this regiment. To Company E, 22nd Consolidated Regiment Infantry as 2LT. (B2:629)

// Probably not Cajun.

MARCHAND, E. Artificer. See Company C, this regiment.

MILLER, A. Pvt. To Company E, 22nd Consolidated Regiment Infantry. // CSRC, Index.

MILLER, G. Pvt. // CSRC, Index.

MILLER, V. Pvt. To Company E, 22nd Consolidated Regiment Infantry. // CSRC, Index.

PUJOL, A. Pvt. To Company E, 22nd Consolidated Regiment Infantry. // CSRC, Index.

ROBEAU, P. A. Pvt. // CSRC, Index. // Same P.A.B. as in Company A, 18th Regiment Infantry?

ROBERT, M. Pvt. See Company C, this regiment.

ROUSSEAU, O. Pvt. // CSRC, Index.

SANCHEZ, M. Sgt. // CSRC, Index.

SAUCIER, E. Sgt. See Company A, this regiment.

SAVOY, L. Pvt. [En. n.d.,n.p.] POW. Refused to sign prl. Vicksburg, 4 Jul 63. [NER/NFR.]

(B3:460) // Same as P.S. below?

*SAVOY, P. Pvt. Res. New Orleans. Cmplx. dark. Hair black. Eyes black. 5' 8˝". En. 25

Feb 62, New Orleans, or 9 Oct 62, Baton Rouge. Pres. Dec 62-Feb 63. POW cap. Vicksburg, 4 Jul 63. Sent to Memphis, TN, 18 Jul 63. Rcd. Gratiot St. Prison, St. Louis, MO, 26 Jul 63. Fwd. to Camp Morton, IN, 7 Aug 63. Late Oct-Dec 63: Abs. Left in Vicksburg. To Co. E, 22nd Consolidated Regiment Infantry. (B3:460) // Same as L.S. above?

VICKNAIR, E. Pvt. // CSRC, Index.

WILTZ, H. Sgt. // CSRC, Index.

20 Co. E, 23rd/22nd Inf.

Individuals from non-Cajun families, CSRC Index

| | | | | |
| --- | --- | --- | --- | --- |
| ALBAGNAC, A. Pvt. | ALIBRAN, C. Pvt. | ALLEN, H. Pvt. | | |
| 3 | | | | |

Company F (Durrive's)

Orleans

ALLEMAND, Alfred. Pvt. // CSRC, Index: Alfred Allemond. // Same A.A. as in Lafourche Regiment Militia?

ALLEMAND, Joseph. Pvt. // CSRC, Index: Joseph Allemond. // Same J.A. as in Lafourche Regiment Militia?

AUTIN, Paul. Pvt. To Company B, 22nd Consolidated Regiment Infantry. // CSRC, Index.

CALAIS, Felicien. Pvt. // CSRC, Index.

LYONS, Frank. Pvt. // CSRC, Index.

MCBRIDE, Thomas. Pvt. // CSRC, Index.

PERRY, Joseph R. Pvt. // CSRC, Index.

SANCHEZ, John. Pvt. // CSRC, Index.

8 Co. F, 23rd/22nd Inf.

Individuals from non-Cajun families, CSRC Index

Company G (Twiggs Rifles, D. H. Marks's)

Orleans

DUGAN, James. Pvt. // CSRC, Index.

MARKS, David H. CPT. // Bergeron, La. Confed. Units, 129; says he resigned on 2 May 62. CSRC, Index. // Served also in Company I, 18th Regiment Infantry as 2LT.

MCBRIDE, Patrick. Pvt. // CSRC, Index.

3 Co. G, 23rd/22nd Inf.

Individuals from non-Cajun families, CSRC Index

| | | | | |
| --- | --- | --- | --- | --- |
| ANDERSON, James. Pvt. | ANGLIN, Patrick. Pvt. | | | |
| 2 | | | | |

Company H (Twiggs Rifles Company B, W. Marks's, M. H. Marks's)

Orleans

KERN, Jacob. Pvt. // CSRC, Index.

MARKS, Marion H. CPT. Also Company B, this regiment as Pvt. // CSRC, Index: M. H. MARKS. // Served also in Company A, 1st (Dreux's/Rightor's) Battalion Infantry as Pvt.

MARKS, Washington F. CPT To Field & Staff, the regiment. // CSRC, Index: Wash MARKS, Washington MARKS.

MILLER, George. Pvt. // CSRC, Index.

SMITH, Daniel. Pvt. // CSRC, Index.

SMITH, John. Pvt. // CSRC, Index. // Same J.S. as in Company A, this regiment?

6 Co. H, 23rd/22nd Inf.

Individuals from non-Cajun families, CSRC Index

Company I (Allen Guards, Jones's)

Orleans

BOURG, Franklin E. Pvt. En. 20 Sep 61, Ft. Berwick. Pres. to Feb 62. [NFR.] (B1:60b)

JOHNSON, Charles. Pvt. // CSRC, Index.

JOHNSON, Hughey. Pvt. // CSRC, Index.

JOHNSON, James. Pvt. // CSRC, Index.

LAMBERT, B. Pvt. En. 11 Sep 61, New Orleans. [NFR.] (B2:628)

LANDRY, Lusignan B. Pvt. En.10 [?] 61, Fort Jackson, for the war. Pres. Jan-Feb 62. [NFR.]

(B2:644)

MAYER, Adam. Pvt. // CSRC, Index.

SMITH, Joseph. Pvt. // CSRC, Index.

SMITH, Patrick. Pvt. // CSRC, Index.

TAYLOR, John. Pvt. // CSRC, Index.

TAYLOR, Robert H. Pvt. // CSRC, Index.

11 Co. I, 23rd/22nd Inf.

Individuals from non-Cajun families, CSRC Index

| | | | | |
| --- | --- | --- | --- | --- |
| AGAN, John. Pvt. | ALLEN, Thomas. Pvt. | ALLEN, William M. Pvt. | ANGOLO, John B. Pvt. | |
| 4 | | | | |

Company K (Tirailleurs d'Orleans, Tissot's, Barnes's)

Orleans

Individuals from non-Cajun families, CSRC Index

GERARD, P. Pvt. // CSRC, Index.

GUERIN, Victor. Pvt. // CSRC, Index.

MARCHAND, J. P. Pvt. // CSRC, Index.

SMITH, Lewis. Pvt. // CSRC, Index.

4 ?, 23rd/22nd Inf.

Individuals from non-Cajun families, CSRC Index

copyright (c) 2001-05 Steven A. Cormier