Louisiana Defenders Battalion Volunteer Infantry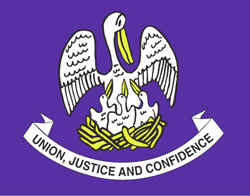 From Bergeron, La. Confed. Units, 171-72:
"This battalion was organized in November, 1861, in New Orleans and transferred to Confederate service on March 18, 1862. The battalion went to Camp Lewis. On April 12, it moved to Camp Benjamin. The men received orders to go by steamer from Lake End to Covington when New Orleans was evacuated. On April 29, they marched to Madisonville, and the next day they took steamers to Pass Manchac. They left Pass Manchac for Camp Moore on May 2. Members of Company B, and possibly men from the other companies, were assigned to the 30th Louisiana Regiment on May 20. The fate of the battalion from this time is unknown. In May, 1863, Miangolara was at Ponchatoula recruiting for his battalion. He left there May 10 for Madisonville because of the approach of Federal troops. The battalion was reported as being in Richmond, Virginia, on September 7, 1863."
ROSTER
Company C (Domingo's)

Orleans

DOMINGEAUX, Jose. CPT. // Bergeron, La. Confed. Units, 171: Jose

Domingo. CSRC, Index: J. Domingo. // Same J.D. as in 5th Company, 5th (Spanish) Regiment, European Brigade Militia?

1 Co. C, LA Defenders Bn. Inf.

Individuals from non-Cajun families, CSRC Index

HERNANDEZ, J. M. 1LT. // CSRC, Index; listed only as LA Defend.

1 ?, LA Defenders Bn. Inf.

Individuals from non-Cajun families, CSRC Index

[top of page LA Defenders Bn. Inf.]

copyright (c) 2003-04 Steven A. Cormier