Leeds Guards Battalion, Volunteer State Troops Militia Infantry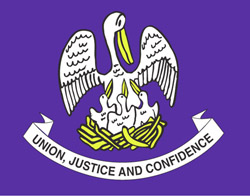 From Bergeron, La. Confed. Units, 181:
"In the early months of 1862 (February-April), Governor Thomas O. Moore arranged with Major General Mansfield Lovell to transfer three brigades of militiamen to Confederate service. Lovell accepted the eleven regiments and two battalions of 'Volunteer State Troops' for the defense of New Orleans. It appears, however, that Lovell had few, if any, of the men formally mustered into regular Confederate service. Most of the men went into camps around the city for drill and discipline. Napier Bartlett's Military Record of Louisiana places the strength of the three brigades at 9,113 men, but they probably had no more than half that number ready for active duty. Lovell ordered the Chalmette Regiment to the Quarantine Station, six miles upriver from Fort St. Philip, to guard the rear of that bastion. Bartlett gives the following account of the fate of these units: 'When the gunboats [of Union Flag Officer David G. Farragut] passed the forts [Jackson and St. Phillip] and Lovell carried off all transportation, [the regiments] were disbanded by Gen. [E. L.] Tracy.' Farragut's vessels captured and paroled all of the men of the Chalmette Regiment at the Quarantine Station on April 24. Many of the officers and enlisted men of the other units escaped the city before it surrendered and accompanied Lovell's regulars to Camp Moore. Only one unit, the Sumter Regiment, maintained its organization; and it later became the nucleus for the 30th Louisiana Infantry Regiment. Bartlett's account goes on to say, 'When [General Benjamin F.] Butler arrived, the officers and men [in New Orleans] were arrested as prisoners of war, paroled, and those who did not take the oath, were exchanged on the 8th of October following, being delivered at Vicksburg.' While the majority of these 'Volunteer State Troops' took the oath, a number did find their way into Louisiana units on active duty in the Vicksburg area."
CSRC, M320, roll 391
ROSTER
Company E (Leeds Guards Company B, Malone's)

Orleans

YOUNG, Robert. Pvt. // CSRC, Index.

1 Co. E, Leeds Gds. Bn. VST Mil. Inf.

Individuals from non-Cajun families, CSRC Index

Company F (Lovell Guards, McGuire's)

Orleans

SMITH, Thomas. Pvt. // CSRC, Index.

1 Co. F, Leeds Gds. Bn. VST Mil. Inf.

Individuals from non-Cajun families, CSRC Index

[top of page Leeds Gds. Bn. VST Mil.]

copyright (c) 2003-04 Steven A. Cormier