Red River Scouts Battalion Volunteer Cavalry
[also known as Red River Sharpshooters, Steamboat Battalion]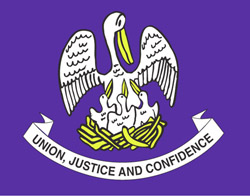 From Bergeron, La. Confed. Units, 68:
"This battalion is sometimes referred to as the Red River Sharpshooters, or the Steamboat Battalion. Companies A and B were formed at Shreveport in 1863, possibly as early as the summer, by the mounting of men who had served as crewmen on steamboats. No information exists on the date of the formation of Company C. General Edmund Kirby Smith formed the companies to act as rangers or pickets along the Red River. No field officer was ever appointed to command the battalion. On November 3, Companies A and B received orders to report to General Richard Taylor at Alexandria. Taylor apparently stationed Company A on the south side of the Red River and Company B on the north side to help scout in the vicinity of the lower Black and Ouachita rivers. By early March, 1864, both companies were near Marksville. Most of Company B again moved across the Red River, but a small detachment made up part of the garrison of Fort DeRussy when Federal forces captured it March 14. Company A fell back through Alexandria and Natchitoches to Shreveport as the Federal army advanced up the river. Company B continued scouting and picket duty on the north side of the river during the early stages of the Red River Campaign. The sources do not mention the battalion again until April, 1865. At that time, according to reports, Companies A and C were in southern Rapides and Avoyelles parishes doing picket duty and breaking up the illegal cotton trade with the enemy. The battalion probably disbanded in that area in May, 1865, but one source places Company B at Shreveport at the surrender of the Trans-Mississippi Department."

CSRC, M320, roll 401
ROSTER
Company A (Stewart's)
?
SMITH, Edward. Pvt. // CSRC, Index; Red River Sharpshooters.

1 Co. A, Red River Scouts Bn. Cav.

Individuals from non-Cajun families, CSRC Index
Company B (Cassidy's)
?
Individuals from non-Cajun families, CSRC Index
Company C (White's)
?
Individuals from non-Cajun families, CSRC Index
BONHAM, J. W. Pvt. // CSRC, Index; Red River Sharpshooters. // Same J.W.B. as Musc. in Company G, 19th Regiment Infantry?

MARTIN, J. W. Pvt. Res. New Orleans. [En. n.d.,n.p.] POW prl. Alexandria, 3 Jun 65. [NER.]

(B2:893: Red River Sharpshooters.) // Same J.W.M. as in Company I, 5th Regiment Cavalry; or Company A, 12th Battalion Heavy Artillery? Probably not Cajun.

RACHAL, Narcisse. Pvt. // CSRC, Index; Red River Sharpshooters.

SMITH, Frank. Pvt. // CSRC, Index; Red River Sharpshooters.

SMITH, J. Pvt. // CSRC, Index; Red River Sharpshooters.

SMITH, J. L. Pvt. // CSRC, Index; Red River Sharpshooters.

SMITH, J. Sidney. Pvt. // CSRC, Index; Red River Sharpshooters.

SMITH, Robert H. Cpl. // CSRC, Index; Red River Sharpshooters.

8 ?, Red River Scouts Bn. Cav.

Individuals from non-Cajun families, CSRC Index

| | | | |
| --- | --- | --- | --- |
| ALBAN, J. P. Pvt. Red River S.S. | ANDERSON, Joseph. Pvt. Red River S.S. | | |
| 2 | | | |

[top of page Red River Scouts Bn. Cav.]

copyright (c) 2003-04 Steven A. Cormier