Civil War Victims Memorial, Abshire Cemetery, Vermilion Parish, LA
Below are photos of the Civil War Victims Memorial in Abshire Cemetery, Vermilion Parish, LA. The memorial was erected in June 1945 by local craftsman Raney Richard, a descendant of one of the victims. The 11 victims listed on the memorial are Easton Abshire, Elear Abshire, Jack Abshire, Joseph Abshire, Martin Abshire, Alean Hanks, Pierre Istre, Theodule Simon, William Abshire, Theodule Monceaux, and Euclide Richard. The date given for their deaths is April 30, 1863. Local legend says that they were peaceful farmers who lived in the area and refused to be drafted into Confederate service. As a result, they were hunted down by General Mouton's men, who surprised and killed them at the Stelly house nearby.
The names of none of these men can be found in Confederate service records, so they were not deserters, nor has the author found any evidence for such action on this date in the Official Records of the War Between the States. However, there is a reference in the Official Records [Series 1, 34(1): 571, 586] to an anti-Jayhawker expedition "to Opelousas and the Attakapas country" by the 2nd and 7th Louisiana Cavalry regiments, part of Colonel William Vincent's cavalry brigade, in the spring of 1864 during the Red River Campaign. In a dispatch dated May 2, 1864, General Richard Taylor, who had been General Mouton's commander, wrote: "The cavalry sent to the Teche has returned.... Many jawhawkers were killed." In his article, "Calcasieu Parish, LA: Hotbed of the Civil War Jayhawkers," historian W. T. Block, quoting from the Galveston, TX, Weekly News of March 16, 1864, records: "A few days past, some of Colonel Vincent's cavalry came in sight of Captain -- Cady, a Jayhawker chief, and 18 of his company. They were hotly pursued and driven to the Mermentau, and all captured. A drumhead court martial was at once formed, the party tried, found guilty, and sentenced to death. The sentence was executed without the least delay."
Whatever the truth of the matter, this memorial reflects the complexity of the war in South Louisiana.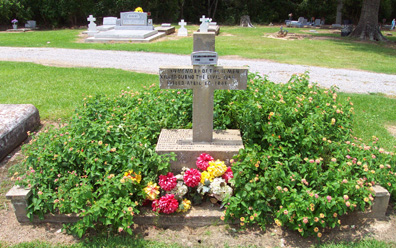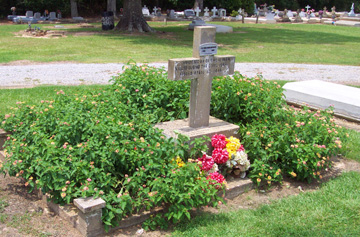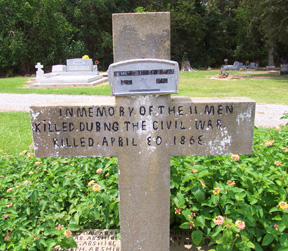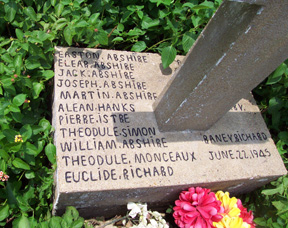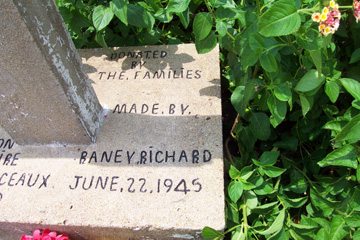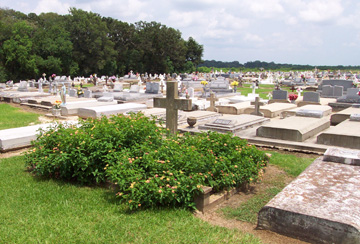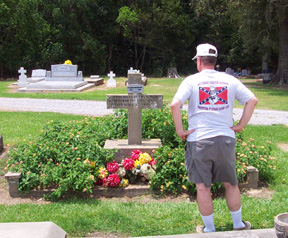 Photos by the author and Michael Cormier, August 2002. Many thanks to Kirby Broussard, who told me about this memorial, and to his mother, Mildred Broussard, who gave me directions to the cemetery, which is located along the banks of Bayou Queue de Tortue, a tributary of the Mermentau, several miles east of State Highway 13 between Crowley & Kaplan.