14th (Austin's) Battalion Sharpshooters Volunteer Infantry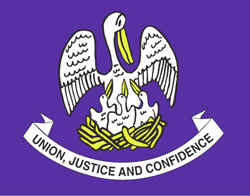 From Bergeron, La. Confed. Units, 167-68:
"This battalion was formed on August 21, 1862, with 200 picked men from the recently disbanded 11th Louisiana Regiment. The men were to serve as sharpshooters and skirmishers for General Daniel W. Adams' (later Randall L. Gibson's) Louisiana brigade in the Army of Tennessee. On October 8, the men participated in the Battle of Perryville, Kentucky, and received praise for their gallant conduct. The battalion fought in the Battle of Murfreesboro, covering the retreat of the brigade after an unsuccessful attack on December 31 and acting as the brigade reserve on January 2, 1863. Losses in the battle amounted to 4 men killed, 9 wounded, and 2 missing. In May, 1863, the brigade went to Jackson, Mississippi, to reinforce General Joseph E. Johnston's army. The men took part in the Siege of Jackson, July 5-25, and afterwards rejoined the Army of Tennessee in northern Georgia. At the Battle of Chickamauga, September 19-20, the men acted first as skirmishers and later as a reserve to protect the brigade's flank and rear. Company A captured two enemy cannons and 86 prisoners. The battalion fought in the Battle of Missionary Ridge, November 25, and retreated with the army to Dalton, Georgia. There the men spent the winter and spring [of 1863-64]. In the opening stages of the Atlanta Campaign, May, 1864, the battalion saw frequent skirmishing with the enemy. The men fought at Mill Creek Gap, May 7, and at Resaca, May 15. Only 45 men went into an engagement near Pumpkin Vine Creek on May 25, and 15 of them fell dead or wounded. The battalion participated in the battles of Ezra Church, July 28, and Jonesboro, August 31, during the fighting around Atlanta. When the army invaded Tennessee, in November, the battalion had only 24 men present for duty. They fought in the battle of Nashville, December 15-16. The army retreated to Tupelo, Mississippi; and in February, 1865, at Mobile, Alabama, the remnants of the battalion were consolidated with the 4th and 13th Louisiana regiments and 30th Louisiana Battalion. This consolidated command fought in the Siege of Spanish Fort, March 27-April 8. After the evacuation of Mobile, the men became Company H, Chalmette Regiment, and surrendered as such at Gainesville on May 8."
CSRC, M320, rolls 264-265
ROSTER
Company A (Peyton's, Lowd's)

?